https://www.newsmax.com/cmspages/getfile.aspx?guid=02306C1C-935D-4C9B-AF97-14A2386549F5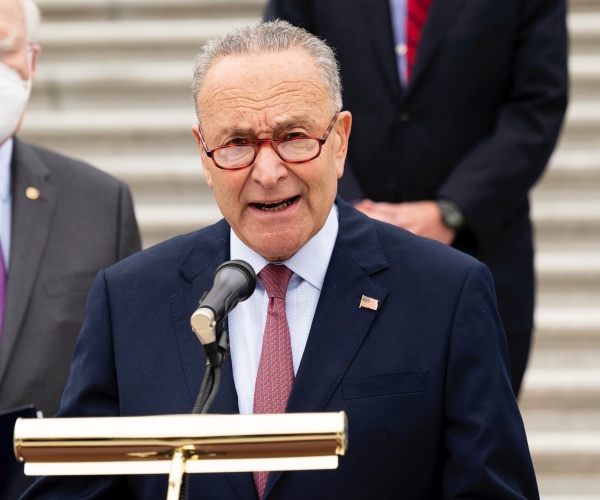 Senate Minority Leader Chuck Schumer called President Donald Trump "a moron" during a radio show Thursday because the federal government, he says, is not reacting properly to an increasing number of infections of the novel coronavirus.
"More people are in hospitals, more people are dying. This third wave in the cold weather with the combination of the flu, and we're sitting on our hands and that's because Donald Trump is such a — pardon my saying, I know you have a very nice show — such a moron," Schumer said on SiriusXM's satellite radio "The Joe Madison Show," according to TheHill.com.
The remarks were the most recent name-calling outburst by the New York Democrat and revived memories of when then-Speaker of the House Tip O'Neill referred to then-President Ronald Reagan as an "amiable dunce," "callous," "a real Ebenezer Scrooge" and "a cheerleader for selfishness," among other things.
Schumer called Trump "an idiot" after the first presidential debate on Sept. 29, and a "quack medical salesman" in April.
While the seven-day average of new daily cases of infection have surpassed their peak levels in July, the seven-day average of deaths have remained relatively flat, between 704 and 844 since Sept. 8, according to woldometers.info. The seven-day average of daily deaths peaked at 2,256 on April 21.
Schumer Calls Trump a 'Moron' Over Coronavirus
was last modified:
October 29th, 2020
by
This article was originally posted on Red Tea News.