https://www.newsmax.com/cmspages/getfile.aspx?guid=353299E9-6DA9-497D-B9AA-0073A34DC179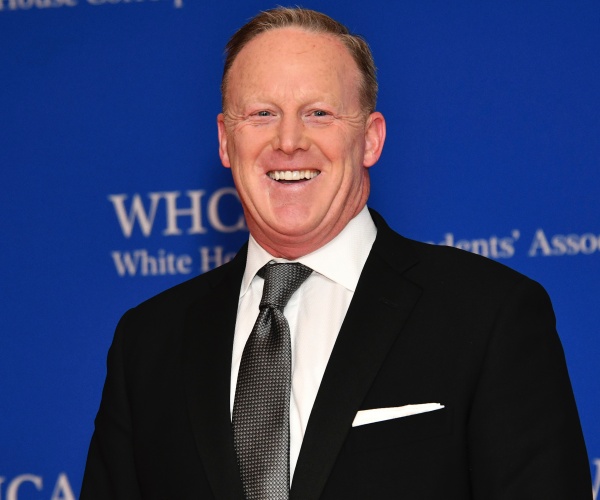 While breaking down the electoral college before the Nov. 3 presidential election is important, the race to 270 electors might wind up deadlocked as "too close to call" until the lawyers battle it out in the courts for days, if not weeks, according to Sean Spicer on Newsmax TV.
"There is a plausible scenario that this thing goes down to the wire," Spicer said on Thursday's "Spicer & Co." with Emerald Robinson, who expects "days" of legal challenges and recounting.
"Days? I think it's going to go weeks," Spicer concluded to Robinson.
Nebraska's two split electoral votes might wind up deciding the potential 269-268 margin, Spicer's analysis suggested.
"Brace for recounts in multiple states," RealClearPolitics co-founder Tom Bevan told Spicer. "And then if Trump wins by 270-268, brace for another round of faithless electors; imagine the pressure campaigns that they put on these folks."
Among the battleground states most important, according to Spicer's analysis, is Arizona, which Trump must win.
"Everything's coming down to Arizona and its 11 electoral votes, which I cannot believe that we're having this conversation," Spicer said.
"I think Arizona is going to be huge," he concluded. "If Trump can pull it out, he gets a second term. If he doesn't, I don't see the math."
Here is how the panel divvied up the key battlegrounds in the Electoral College race:
Texas: 38 electors will remain red with Trump.
Florida: 29 electors is a toss-up, but Spicer gives the ground-game advantage to Trump.
Ohio: 18 electors will stick with Trump because both parties have moved out resources to other more hotly contested states.
North Carolina: 15 electors will be eked out by Trump, but if he loses it early on Election Night, the race is over.
Georgia: 16 electors are dangerously close with Trump hanging on, according to the panel.
Michigan: 16 electors will go to Biden because he has actually campaigned there, unlike Hillary Clinton in 2016.
Pennsylvania: 20 electors with Trump trailing slightly, but the fossil fuel and fracking debate will get Trump ahead before the pending fight in the courts over the counting of late ballots.
Iowa: 6 electors go to Trump, despite the polling favoring Biden, who did not compete in the Democrat primary there.
Nebraska: Split 2 electors … split decision.
Maine: Split 2 electors … split decision.
Wisconsin: 10 electors and Biden might eke it out.
Minnesota: 10 electors, while Trump has made progress in a longtime blue state, Biden has put money in to stem the tide.
Nevada: 6 electors and COVID-19 and mass mail-in balloting will be put Biden over the top.
Arizona: 11 electoral votes is a toss-up, but if Biden wins, it is over, Spicer declared.
Important: See Newsmax TV now carried in 70 million cable homes, on DirecTV Ch. 349, Dish Network Ch. 216, Xfinity Ch. 1115, Spectrum, U-verse Ch. 1220, FiOS Ch. 615, Optimum Ch. 102, Cox cable, Suddenlink Ch. 102, CenturyLink 1209, Mediacom Ch. 277, Frontier 615 or Find More Cable Systems – Click Here.
Sean Spicer on Newsmax TV: Path to 270 Leads to the Courts
was last modified:
October 29th, 2020
by
This article was originally posted on Red Tea News.