https://www.newsmax.com/cmspages/getfile.aspx?guid=265FDB21-8457-4077-8525-6E4BE12C73A3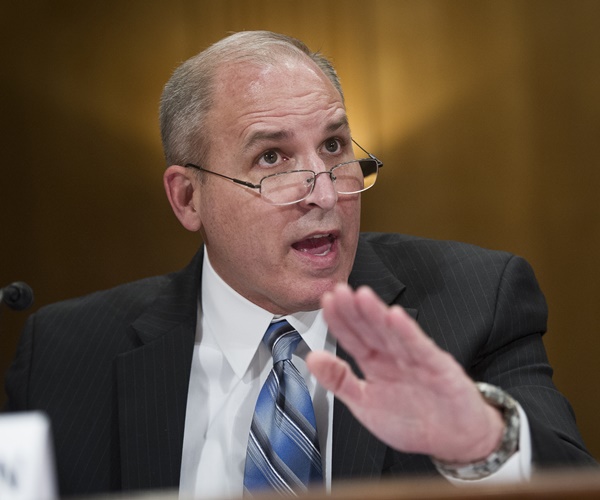 Twitter on Thursday reversed course and unlocked acting U.S. Customs and Border Protection Commissioner Mark Morgan's account one day after he was suspended from using his account for celebrating the success of the U.S. southern border wall.
A Twitter spokesman told The Washington Times the decision was "reversed following an appeal by the account owner and further evaluation from our team."
Morgan in his post touted the wall's progress: "@CBP $ @USACHEQ continue to build new wall every day. Every mile helps stop gang members, murderers, sexual predators, and drugs from entering our country. It's a fact, walls work."
Twitter in an email notifying Morgan of the suspension said he had violated rules against "hateful content."
"You may not promote violence against, threaten, or harass other people on the basis of race, ethnicity, national origin, sexual orientation, gender, gender identity, religious affiliation, age, disability, or serious disease," Twitter wrote.
The commissioner did not appear to threaten or harass anyone or promote violence.
Twitter is already under intense scrutiny for censoring conservative voices on the platform, including the suppression of a New York Post story two weeks ago that alleged Hunted Biden attempted to profit off of his father's position.
Morgan in a statement said Twitter was "out of control in their clear bias against this administration and their blatant censorship of anything that may go against the policies of those who sit in cubicles in Silicon Valley.
"America is going down a dangerous road if we do not stand up for free speech and free thought — regardless of our beliefs."
Twitter Reverses Course, Unlocks Border Chief Mark Morgan's Account
was last modified:
October 29th, 2020
by
This article was originally posted on Red Tea News.