https://www.newsmax.com/cmspages/getfile.aspx?guid=3681D533-DB19-487D-9E98-669D03267FFA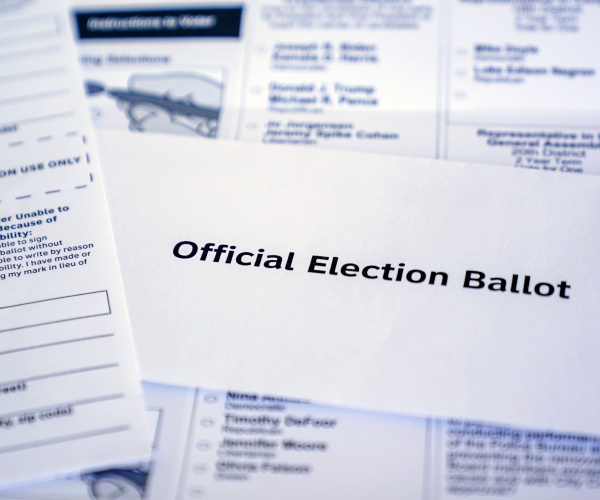 Far more Democrats have returned mail-in ballots than Republicans, but more GOP voters have cast in-person ballots so far, data show.
Citing U.S. Elections Project data, Newsweek reported Thursday that more than 76.5 million ballots have been cast — more than half the total number of votes cast in the 2016 election.
Slightly more Republicans have cast in-person votes so far — 3,511,359 for Republicans compared with 3,115,299 for Democrats, Newsweek reported.
But Democrats were ahead by far for returning mail-in ballots, the news outlet noted.
Not all states report the party affiliations of those voting early, but those that do include key battleground states Pennsylvania, North Carolina and Florida, Newsweek reported.
According to the data, 28,803,848 mail-in ballots have been returned as of early Thursday morning. The U.S. Election Project figures that Democrats have returned slightly more than double the mail-in votes than those returned by Republican mail in voters.
Though Democrats requested mail-in ballots in greater numbers than Republicans, they haven't returned as many as GOP voters, Newsweek noted.
Democrats have 10,382,132 mail-in ballots outstanding while Republicans have 7,313,731 yet to be returned. So far, Democrats have a return rate of 58.3% compared to 50.4% for Republicans, Newsweek reported.
Michael McDonald, a political science professor at the University of Florida who runs the project tracking early voting statistics, called the numbers "stunning" in a recent analysis.
"Nationwide, voters will not only be sent an unprecedented number of at least 87 million mail ballots, but they are returning them sooner than in past elections," McDonald wrote.
He said the pace of early voting in some states indicates they could surpass their total 2016 vote this week.
McDonald cautioned that Democrats may have more ballots outstanding than the figures show since they only reflect states that report party registrations.
"There is still some play left in the in-person early vote, but time is starting to run short such that Republicans will need to rely heavily on Election Day vote, which has traditionally been a strong day of voting for Republicans in recent elections," he said, Newsweek reported.
Related Stories:
Analysis: More Dems Return Mail-In Votes, More GOP Voters Cast In-Person Ballots
was last modified:
October 29th, 2020
by
This article was originally posted on Red Tea News.